LESSON #1
Why your VR team needs to nail it from the get-go:
SELF-REPRESENTATION & SCALE
View Recap from Lesson 1 on May 27, 2020
Q&A
Have more burning questions? Ask our experts at emtech@keylimeinteractive.com and don't forget to share your feedback about this session with us. We can't wait to answer your questions and hear your thoughts!
ABOUT THE CLASS
VR starts with how the self is perceived. Designing the right self-representations not only determines how users perceive and navigate in a virtual world but also sets the product's tone. Essential for Social VR applications, it defines your users and changes how they interact with each other. It may start with virtual hands, controllers, or an avatar but great self-representation has the potential to increase presence and immersion which results in better user engagement, ultimately urging your users to return back to your product.
In a 30 minute webinar, Key Lime Interactive will help you:
Learn how self-representation affects user perception and create affordances for interactions

Identify visual cues that impact sense of scale and refine how users interpret the environment

Establish a path of success for your product by determining the type of usability / effectiveness testing that will have the most impact on your design



ABOUT OUR EXPERTS
OUR SPEAKER

Ayush Bhargava, PhD, is a creative problem solver specializing in perception and usability based research in XR. He is a developer at heart and approaches every problem from both a technical and human factors perspective.
His work in several different areas of VR and AR has been published in world-class journals and conference venues. Moreover, he serves as a reviewer for multiple academic venues. He is very passionate about the potential for immersive technologies and their widespread application in fields like health care, workforce, communication, entertainment, and education. Check out his thoughts on prototyping and evaluating VR simulations for training.
OUR MODERATOR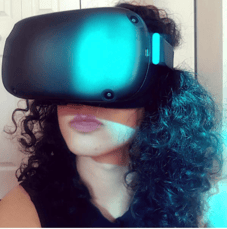 Marina Roselli is an NYC based UX Researcher/Designer specializing in eXtended Realities (XR). At heart, she is a problem solver, a storyteller, and a gamer with a knack for providing band-aids to customer's pain points.
She has worked as the UX lead in VR/AR production teams, crafted UX award-nominated immersive experiences on Oculus and Vive, and designed the educational VR game "Clear the Air" at the cornerstone of the government of Canada's nationwide "Pursue Your Passion" campaign. As a researcher, Marina has worked for enterprise-level companies by relying on her expertise in perception and cognition to make actionable recommendations. She loves talking about tutorialization and transformative XR experiences.