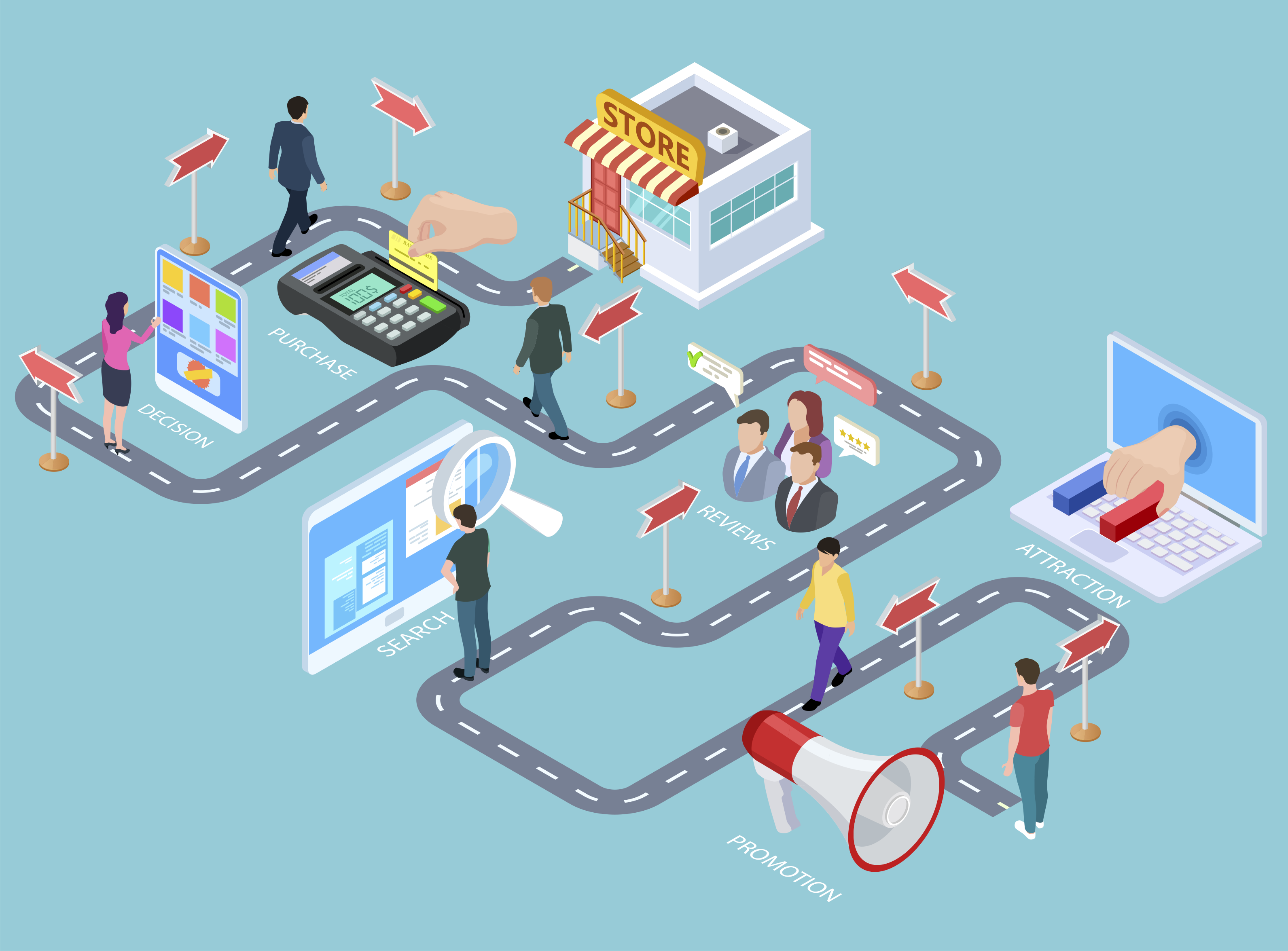 Have you considered every touchpoint a customer may encounter as they discover who you are as an organization? If not, you may be losing out on sales and clients.
Today, customers don't just want you to understand what they are looking for—they expect it. In fact, 66 percent of today's consumers have the expectation that organizations will understand their needs. What's more, the companies investing in understanding their needs are bringing in more revenue as a result. One recent report shared that customer-centric businesses are an astonishing 60 percent more profitable compared to companies that aren't.
Of course, most companies don't think they are missing the mark when it comes to the customer journey. Every company wants to be customer-centric, but they may be missing some opportunities to create a truly memorable, positive customer journey. This is where the importance of customer journey mapping comes into play.
With the customer experience holding more weight than ever before, it's definitely time to map your customer journey. Here's why.
What Is Customer Journey Mapping?
If you haven't created customer journey maps yet, it can be a game-changer in terms of uncovering the truth about how clients meet your organization and get to know who you are. Think of it as a roadmap, log, or diagram that depicts every stage your customers can go through as they interact with your organization. This may include things like:
Connecting with your customer service team
Searching for information or asking questions via social media
Making a purchase online
Looking for an answer on your website
However, if you want your customer journey maps to help you improve your processes, it's important to get a really clear picture of the actual customer journey, not just what you think it might be. This means that your journey map has to be grounded in real data and research. It should be an accurate visual representation of all the different phases and touchpoints of the customer experience, entry points, and possible ways a customer may interact with you.
It's also essential that a customer journey map is entirely focused on helping customers reach their goals. Within an organization, it can be easy to focus on making a sale or making a conversion. But that's not the purpose of a customer journey map. A customer journey map is geared toward helping customers meet their goals.
To do this, Tech Target explains that a customer journey map must include a "360-degree view of how customers engage with the company." What this means is coming up with multiple scenarios for how customers discover and interact with your organization, and finally, how they achieve their goals. There may be many different paths they could take:
Using social media to comment on your product, service, or brand, then connecting via phone, and finally making a purchase online
Discovering your brand online, browsing through the website, connecting with the customer service team, then setting up a meeting with the sales team
Having this comprehensive view of how customers are actually interacting with your company in real life can help you positively engage with leads and improve your overall customer experience.
Customer Experience: Why Customer Journey Mapping Is Taking Off
So, why is customer journey mapping increasing in importance? Why is it so critical to examine every touchpoint of the customer journey at this moment in time?
The answer lies in the reason behind the customer journey. It all comes back to the customer experience.
It seems that in every sector and across all industries, creating a positive, memorable customer experience is more important than ever before. Much of this can be attributed to the rapid digital transformation brought about by the COVID-19 pandemic. Customer experience (CX) replaces the in-person storefront experience in a more digital world.
Even in some industries that would seem to be impervious to a rising need for better CX, customer experience is becoming just as important as the product or service an organization offers. For example, Fintech Global recently reported that most online users would abandon a digital bank after just one negative experience. This study, which encompassed 4,200 consumers across 200 countries, also found that 65 percent of these same respondents would cancel or leave a digital service if the sign-up process was too much of a hassle.
What does this tell us? Customer journey mapping is essential for a culture where CX is king. Organizations can discover where a sign-up process is too difficult, or which touchpoints are negatively or positively impacting the overall CX.
Customers want a great CX. It's in the statistics. In fact, 86 percent of consumers are actually willing to pay more for a brand that offers a great customer experience. In this climate, the customer journey is poised to become a key brand differentiator—maybe even more so than the prices or quality of the products or services themselves. And as much as consumers want a great customer experience, their patience for a negative customer journey is fading quickly. Thirty-two percent of consumers will leave a brand they love after just one bad experience.
Embracing Customer Journey Mapping
Customer journey mapping isn't just a good idea anymore—it can be a survival tool to gauge how your customers feel as they navigate through their experience with your organization. It's important to note that while the idea of creating a positive customer experience is timeless, access to data-backed research on the customer journey is still a pretty new concept. Every year, more technologies become available and new studies reveal fresh insights into influential trends. All of this can help your entire organization seize timely possibilities to grow, improve, and deepen the customer experience.
Because the world of customer journey mapping is new and ever-evolving, it's essential to work with UX/CX experts who know how to take this data and turn it into actionable, successful strategies that stay true to who you are and what you do.
Key Lime Interactive is here to shed light on your customer journey and provide you with the insights you need to move forward. As a full-service CX/UX research, strategy, and design firm, we partner with you throughout the research and development process to fully understand the needs and expectations of your unique audience. We utilize our proprietary platform, JourneyTrack, the most robust workshopping, persona-creation, and journey mapping tool on the market to track, understand, and optimize your customer experience. Connect with our expert team of customer experience strategists to learn more.