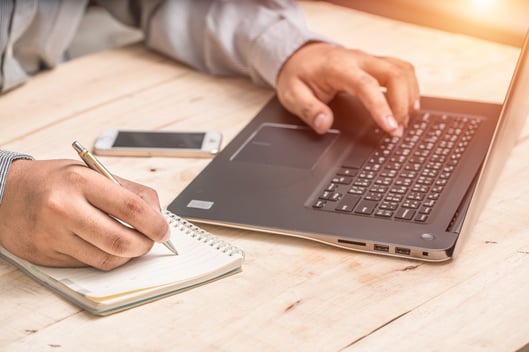 Using the right tool in any job is a critical component to success. Anyone conducting UX research should carefully consider which note taking tool they should use for a particular project.
To say that there is a definitive best note taking tool is debatable. What is certain is that although note taking, in general, can be subjective, there are certain tools that are better equipped to handle specific types of data collection. As a result, Key Lime Interactive thought it would be helpful to take a look at some note taking tools and help users make the right decision on which tool to go with depending on their project-specific needs. Here we debunk the question of how to choose the right note taking tool
Spreadsheets
Using a spreadsheet for note taking (Excel or Google Docs) is one of the most commonly used methods for data collection. However, when you consider the way in which you gather insights for a task-based study versus a qualitative interview, you will quickly see why spreadsheets lend themselves for collecting quantitatively focused data.
For example, imagine if you wanted to evaluate the success and ease with which participants were able to complete a multi-step application process or conduct a broad competitive index. Collecting binary pass/fail observations and likert scale (1-7) responses would be relatively easy. In addition, computing metrics like SUS (System Usability Scale) and NPS (Net Promoter Score) could be done in a matter of minutes. However, spreadsheets do not do a great job in allowing note takers to quickly and easily aggregate open-ended responses. As a result, spreadsheets often leave researchers with the difficult task of reviewing each individual response and teasing out themes and observations.
| | |
| --- | --- |
| Pros | Cons |
| Shareability within team members. | No room for spur of the moment additions or deviations from study protocol. |
| Minimal costs (everyone has Microsoft Office or access to Google Docs). | Only one person can work on it at a time (unless you are using Google Sheets). |
| Short ramp up time for beginners, anyone can use it. | Unlike quantitative data, qualitative data is more difficult to review and aggregate, therefore, researchers have to spend a considerable amount of time evaluating data. |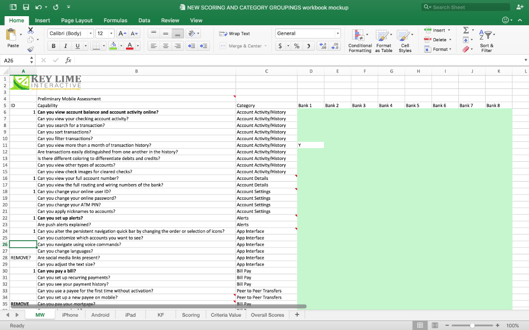 evernote
Evernote is commonly used by researchers who may be conducting research that incorporates more freeform note taking and allows users to add media files and images. Even individuals outside of traditional research roles might also recognize this tool as a great way to keep longitudinal entries organized.
For example, Evernote can be quite handy during walk through sessions where participants can incorporate feedback on images and wireframes. This type of note taking becomes incredibly helpful because of Evernote's tagging capabilities and robust universal search. Over the last several years, Evernote has made several updates to its user interface (UI) with the intention of allowing users to streamline and organize their thoughts. For Chrome users, they recently took this a step further and now allow you to integrate your Google Drive documents as well—which helps with the ability to add images and other media to your notes.
However, if you are looking for a quicker way to aggregate quantitative notes or evaluate qualitative insights, Evernote may be not be exactly what you are looking for.
| | |
| --- | --- |
| Pros | Cons |
| Free web based tool (basic service). | Lacks in functional tools like word association, and data visualizations. |
| Can upload images, share your notes with others. | Premium features like in-app discussion, data encryption are behind a paywall. |
| Sync and review your own notes from multiple devices. | One user per session, per account mean that note taking can only be done by one individual at a time. |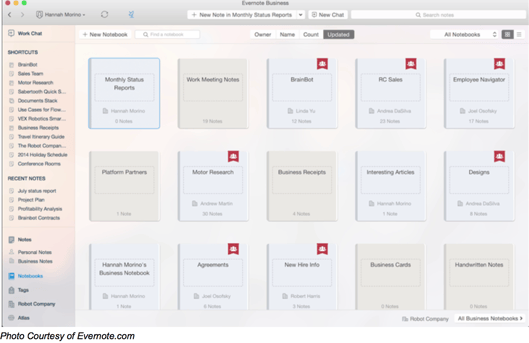 reframer
Optimal Workshop introduced Reframer, its fourth tool in their suite, in early 2015. Many users have taken advantage of this tool, even though it is still in Beta, and are really excited about its potential. For us at Key Lime Interactive, it allows us to combine a freefrom note taker with powerful tagging and a theme builder.
This is incredibly helpful when looking for a way to aggregate qualitative notes. For those who have used the tool, you might have noticed that it also includes a chord diagram which attempts to give users a visualization of the frequency and relevancy between terms in your observations.
For example, in this diagram we can see that the two most common terms used in observations are unimportant and important. By itself this gives us very little insight, however, when we evaluate which terms these words are most closely associate with (thickness of the cord) we can see that terms like "ease-of-use" and "viewing angle" were most closely associated. This allows us as researchers to get a high level understanding of what participants were saying and what terms were most closely associated together.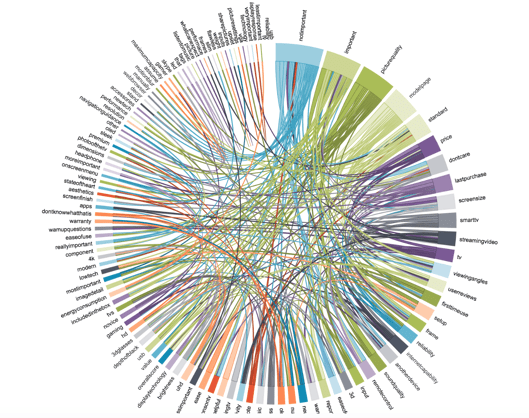 In addition to the Chord Diagram, perhaps Reframers most powerful component is the "Theme Builder". Thanks to its use of #hashtags, a researcher can now tag their observations in real-time during an interview, and subsequently mine their notes for correlation of key terms.
For example, if you were to perform a cognitive walkthrough of your site with 12 participants, you could easily mine for keywords like navigation and checkout together with ease or difficulty. Reframer will then compile every instance where those terms with used in an observation. This makes pulling qualitative insights much more effective.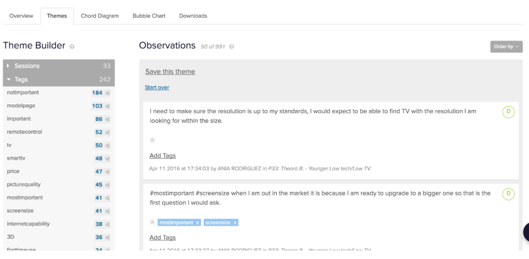 However, in the event that you were looking to quickly aggregate quantitative data, much like Evernote, this tool would not be your best bet.
| | |
| --- | --- |
| Pros | Cons |
| Real time tagging (you can even pre-populate the tags in your study before hand). | Costs (once Reframer is out of Beta). |
| Thematic building. | Importing and Exporting your data can be tricky. |
| Data visualizations like the Chord Diagram. | Not a tool for beginners, the learning curve might be higher for folks looking for a plug and play solution. |
recap
Notes may be subjective and used differently by individuals, but when deciding on which tool is right for the job, you should consider more than just your taste and style of note taking. Always consider, the types of notes you are taking and the process with which you are collecting your data.
For task-based methodologies or competitive analysis where you are entering binary scores like pass/fail or quantitative metrics, spreadsheets are a powerful tool that researchers should feel comfortable leveraging.
Tools like Evernote (or even applications like Microsoft Word) on the other hand allow note taking to feel more free form and can offer additional tools like uploading media files and joined working sessions with other note takers. However, keep in mind that aggregating qualitative data will be a concern if that is your primary research objective.
Lastly, although Reframer is still in Beta, many researchers are excited about this tool's capabilities. Its theme builder and visualization tools allow users to make sense of large amounts of qualitative data, however, comparing notes longitudinally or even aggregating basic quantitative metrics is not possible.
For any other specific questions or evaluations of note taking tools, be sure to reach out. Key Lime Interactive loves talking about new and exciting tools that help us evaluate and make sense of UX insights.
READ MORE: Planning a Better Usability Study, How to Plan for a Quantitative UX Benchmark Study,5 Commonly Used Metrics in User Research, Methods for Running a Successful Diary Study, Our Researchers Can Join Your Team