You're a usability professional - you've studied this formally and you continue to read the entire publication list of Rosenfeld Media as light reading before bed each night. You go about your day identifying ways to simplify life, but not just for yourself. You think about every persona that you suspect may drive a similar vehicle, may also be choosing movies on Netflix, or may use the same mobile payment option. You understand all of the inside jokes on Twitter and keywords that circulate the UX Community, and you are chock-full of ideas on how to apply all of the various trends in testing to your products.
But you're stuck. Your annual budget is once again meager and your team has become the catch-all for every product and division of the organization. You've got a queue of research questions lined up to pursue, and the priority order is dictated by internal politics and not what needs the most attention to please users. It's maddening.
Your company is stuck HERE on the UX Maturity curve and you have a choice.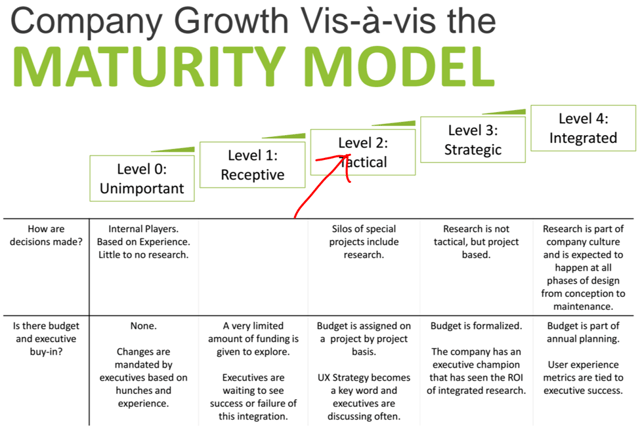 You can be the catalyst that gets them to integrate user feedback into all design thinking, or you can continue to check off the moving targets on that queue and hope that your day-to-day will ultimately produce the delightful product that you daydream about.
You choose growth, right? So now, you must break down the silos of your organization and the walls that surround your User Research division one brick at a time.
1. Share your findings. Good or bad, you're the one speaking to users and you're the one analyzing what they love and hate, what they want and need. You're seeing opportunities for quick fix changes, and for more long-term strategic improvement as they present themselves. These findings, even if they seem small to you, may be just what someone else in the design process needs to spark an idea. Or, they may be the elaboration that the senior management team needed to truly understand what you do in the little closet, er, lab down the hall. You're seeing the emotion and the humanity live and in person. The qualitative color commentary that often comes with user research, the why, can spark change in ways that are dramatically superior than subtle interface changes alone.
2. Storytell. There's a small chance that your reports are regarded as the dreaded TPS reports of Office Space lore. I know, makes you sick, right? But, the reality is that the inboxes of your audience (stakeholders, management, product owners, and the like) are swollen with information and unless you make your info thought-provoking, you can't compete with their-very-own-priority-list.
Funny story: Last month we were testing a mobile website for a clothing company. One of the women being tested was engaged to be married and while completing browsing tasks on her mobile device, she uncovered "the most perfect and amazing dress [she'd] ever seen. Ever." This particular site had an inventory count, and alas the fine print below the pictured image of a happy woman wearing this dress read "two left in size 8." (Her size!) Ecstatic, she opted to add to cart and checkout on the spot. This deviated a bit from the study design plan, but how authentic! We observed. She took an action that she thought would result in adding the dress to the cart, however, the cart icon had no notification number that an item was added. Perplexed, she refreshed the page. Below the image of THE dress it read "Sold Out". Panic overtook her. It was as if she had seen a ghost. She scrambled to get to her cart and complete her purchase, visibly terrified that her "most perfect and amazing dress" had slipped out of reach. She arrived at the cart in a panic and was relieved to find that it was there, but she didn't consider it hers until she painfully trudged through the checkout workflow. We sat at the edge of our seat, watching every action while she proceeded, not cracking a smile.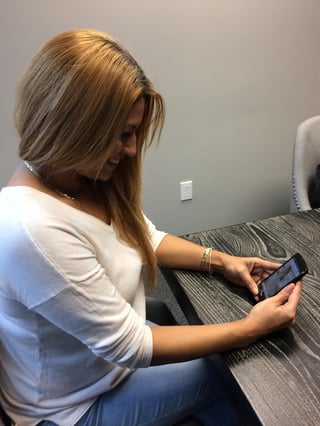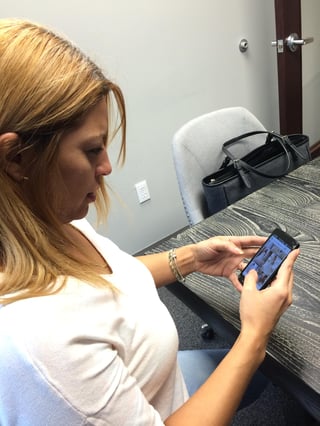 Smug, we recalled the elements of checkout that the researchers were looking for feedback on. We took a video clip of this part of the study and with the caveat that it was anecdotal, and that we'd need to analyze the data before we make assumptions, we sent this around to the stakeholders.
The thread of emails that resulted was hysterical!
Designer: "I KNEW that updated cart was missing something in this prototype!" User Researcher: "The inventory notification just scored another sale. Where's my commission on that?" Product Manager: "Did she get the dress???"
The clip was forwarded around the company with a short story and viewed more than 60 times that day. It promoted lunchtime chatter and reminded other product managers that user testing was something that they needed to add, again. The user research team realized that they had just made their job look quite fun and had renewed the interest in collaboration with their team.
And yes, she got the dress. Relief.
3. Show Impact. Nothing beats a good case study full of meaty data for a decision-maker. You have all of the resources readily available to you, so why not drive the story of user success home? Here's what we mean… You conduct a research study, you analyze the data, and you reccomend eight changes/improvements to the design team. They run with them. Changes are implemented and the product is improved. One month later you receive an analytics report and a sales report. All you have to do is connect the dots: we recommended xyz, here's a screenshot of what it looked like before, here's after, and this is the lift we saw in xyz. Package it up nicely and share the impact, too!
"When a change that you suggested can be connected to a 21% decrease in cart abandonment, I suddenly have new budget to hire you again for the next project." boasted one of our favorite ecommerce clients. This is hands down the best way to increase the support for your usability program to mature.
And this list goes on, friends. There are countless strategies for selling your services inside your organization. We suggest you start here, with these big three, and see where that takes you. If you're always on the lookout for sharable sound bites, success stories and impact, you won't need to polish up your elevator pitch; your users will speak for themselves. Just the way you like it.