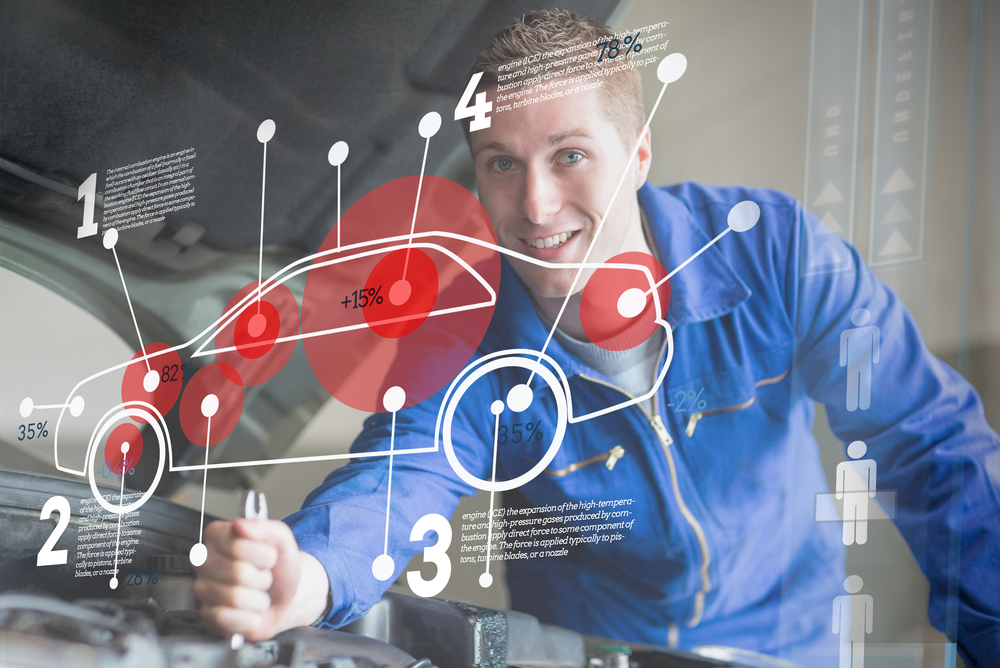 Here at Key Lime Interactive we spend a lot of time thinking about cars. Well, not just cars specifically, but the industries that surround cars. Twice a year we study the top auto insurance mobile apps and sites for our Mobile Auto Insurance Competitive Index Report. We follow the trends in the industry, see the development of services, and we how changes in automobile features and function ripple out through the insurance industry. Because we aren't tied to a particular company, this puts us in a unique position to be objective about the various offerings.
This is very similar to what third party automotive websites do with automobiles. Sites like Kelley Blue Book, Autotrader, Cars.com, and Edmunds want to give you an informed, unbiased opinion about the automobiles available on the market. They do this by providing not only feature-based analysis, but also expert reviews, pictures (lots of pictures), videos, and consumer ratings. As with any industry, these sites are of various design, and to their customers, of varying quality and usefulness. But while these companies rate, review, and rank automobiles, who watches the third party auto companies?
That's where we come in.
We spent some time in early January evaluating a few of the top third party auto mobile apps across three dimensions. We performed this in the same fashion that we rate auto insurance apps, or, to think of it another way, in the same fashion as these websites rate automobiles: A combination of expert knowledge and measured dimensions. Here are the key results, showing the best-in-class iPhone app presentations for three of the top companies in this space, Autotrader, Cars.com, and Edmunds. We've covered three of the most important parts of the process: Shopping Tools, Search/ Sort/ Filter capabilities, and the Car Details Page.
Shopping Tools – Cars.com
Cars.com provides the best-in-class example of shopping tools out of the three iPhone apps we reviewed. Cars.com boasts the most extensive suite of tools to help users shop for cars. Compared to Autotrader, which requires users to sign in or register to save favorite vehicle listings and searches, Cars.com allows users to immediately save up to 50 each of listings, dealers, or searches. Signing up is only required if you want to view those favorites from a device other than your current phone. When saving a search, users can also add a name or tag to remind them about that specific search.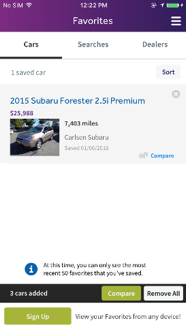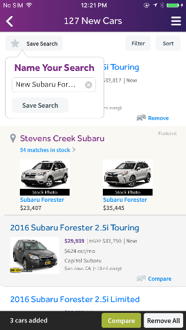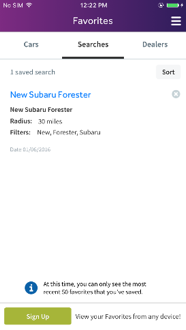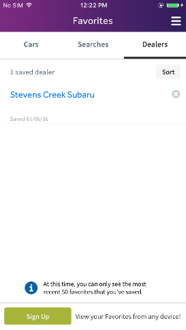 Cars.com also has the strongest selection of calculators for car purchasing. Below you'll see a Payments calculator for new purchases to estimate a monthly payment, trade-in value for your previous car, and then putting both together, a vehicle price calculator based on your down payment and interest rates – which are provided in the same flow by Bankrate.com.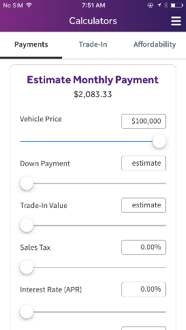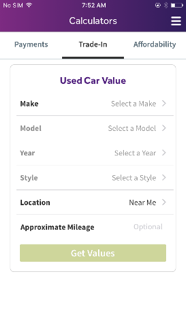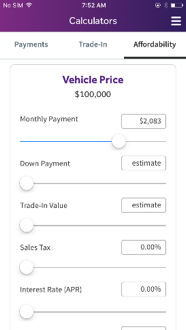 The car comparison tools are really what sets Cars.com apart. On the search results page, users can select up to three different cars to compare. Next, they're directed to a horizontal side-by-side comparison across common features. Most car shoppers have more than one type of vehicle in mind, and even when narrowed down, may be selecting between different styles of the same model. This tool takes the trouble out of comparing vehicles on your mobile device. In each of these key areas, Cars.com beats the competition, awarding them our highest score in the Shopping Tools category.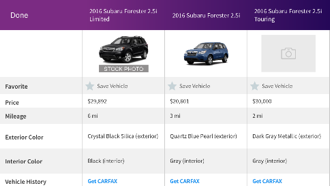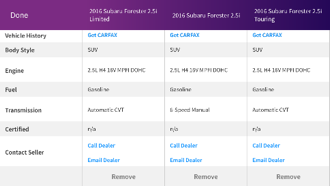 Searching, Sorting, and Filtering results - Autotrader
While shopping tools are important for early purchase scouting and research, searching, sorting, and filtering results could be considered the backbone of the vehicle shopping process. Users have become increasing sophisticated and therefore, demanding regarding viewing and narrowing results, and nothing is more frustrating than struggling to find a certain car due to limitations of an app. Beginning at the search portion, Autotrader provides the most user-friendly integration of advanced search criteria that we tested. Cars.com users can only select brand, model, price, and locale before initiating the search and the Edmunds search process is very limited, only allowing users to start with selecting a brand and model. By comparison, Autotrader takes a different path, pushing the various search or filtering options right to the foreground, with a "More Options" choose along with Make, Model, and Location.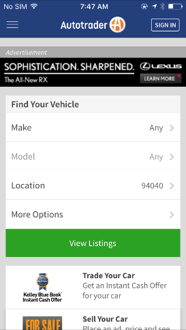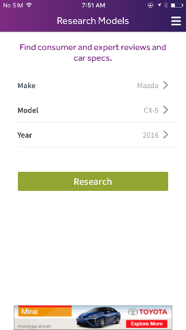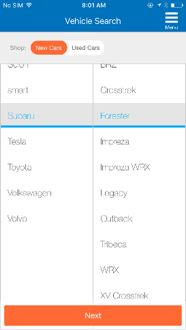 Autotrader Cars.com Edmunds
And when filtering, Autotrader rises to the top by providing 15 different filtering criteria (more than either competitor we tested), each with numerous options to choose from. Users can filter by fuel economy, fuel type, number of doors, interior or exterior paint colors, and many, many other options. Autotrader also stands out by showing the change in the number of results right at the top of the filtering pop out, so the user can assess if their criteria is too specific or broad before initiating the search.

Car Details Page - Edmunds
Edmunds had the best car detail page of the three apps we evaluated. Edmunds provides detailed information about each car, separated into a "Research tab" and a "For Sale" tab. The "Research" tab hosts a wealth of information, including price range, local brand dealers, maps to local dealers, reviews of local dealers, and features and specifications for the vehicle.
Where Edmunds excels is added features such as the Edmunds review, an expert review of the vehicle, and by providing tools like the Cost of Ownership or True Cost to Own®, which uses a database and projections to estimate taxes and fees, maintenance, fuel cost etc. for the vehicle over the next 5 years. Also unique to Edmunds is the ability to view safety test results for the selected car.

For customers who are ready to make a purchase, Edmunds is the only site in this group that provides a quoted price right in the app. The Price Promise® tool allows users to get a quote from a specific local dealer that's valid for 14 days from the date of quote. Edmunds even serves users at the lot with their Lot Buddy tool, allowing you to view your saved cars and get locked-in pricing from the dealer while you're at the dealership. These tools make the Edmunds app a one stop shop for both mobile research and purchasing.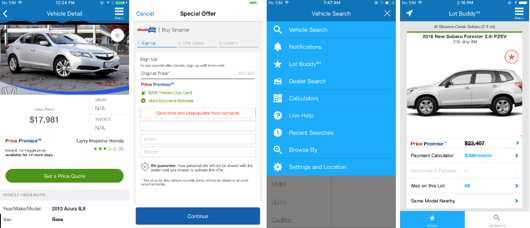 For more on our upcoming work in this industry, please contact info@keylimeinteractive.com and don't forget to subscribe to our newsletter for monthly articles, on-demand webinars, and conference appearances.