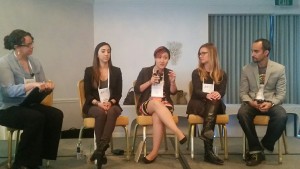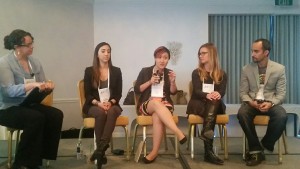 Global Research study pros from Groupon, eBay, Google and Key Lime Interactive were seated on a panel at the International UXPA Conference event in San Diego in late June. They came together to share their words of wisdom for successful global user testing endeavors.
Their theme: Make it a priority to plan ahead AND be culturally sensitive/aware.
Infinite perspectives are available around the globe, spanning multiple languages, habits, patterns, cultural priorities, etiquette and more. The requirement to meet the needs of a diverse audience is clear, and with that comes diversity of your recruited panel. In a recent study that spanned four continents, Key Lime's Eugenio Santiago, VP of User Research , noticed that the stakeholders in the research weren't aware of the relevant needs of each country when they outlined their vision of a successful project. "That's my job." Eugenio stated. "I have to make sure that all of the nuances that organically associate with a culture are considered from the early stages of ux research design. I need to rely on strong in-country partnerships to bring the surface any minute detail that I may have overlooked."
Key Lime leverages their UX Fellows global partnership for this. With a mission to make "international user experience and usability testing as easy and professional as domestic studies," there are checklists in place to ensure success. Simple things ranging from proper power requirements, to considering the time of day you're asking users to test, to understanding pace punctuality; customary greetings are all to be part of a successful testing experience.
Other panelists stressed the importance of building in time for debriefs and dialogue with all parties involved solidifies strong findings and reporting. The in-country perspective is invaluable when reporting user satisfaction.
When speaking with the audience, it was clear that international work was on the rise. Much of the feedback was that folks were already testing in a global setting, or in the process of preparing themselves for this leap. They happily walked away with what was the start of their own actionable checklist of considerations to be successful testing around the world. A few points to get you started as you build your own list:
Consider Cultural Elements:
This goes beyond language. Customary greetings, pace, punctuality, and etiquette should be considered. For example: One panelist reported that during their first global foray they planned to field a study that investigated the way users interacted with a product in their homes in India. They created a study plan that included six thirty-minute home visits in a day, and presented it to their Indian Research Partner. He took one look and said "Oh no. Not possible." Why? Because traffic wasn't being considered. It was assumed that 50% of the day would be spent getting around, so three in a day was pushing it. Adjustments were made in advance vs. sweating it out; rearranging on the fly and failing to meet the schedule.
Consider Technological Capabilities and Be Prepared:
"You may run this exact study 355 days a year in NYC, but when you endeavor to replicate in a different country outside of the US on that one day, you can't take the 'little things' for granted", says Santiago. Wifi, power, keyboard setup, and a host of other things need to be considered. To overcome unforeseen challenges, the panelists advise to stay on the side of caution. "Backup web connectivity options if the facility can't provide what you need." Of course, there are times when that connectivity needs to be considered as PART of the test, but we need to do our best as researchers to isolate the technological variable to best influence design."
Have a Contingency Plan:
Eugene opened with a funny story about an awkward time when he experienced an in-country moderator and a client bang heads mid study. "My observation, even as a non-native speaker, was that these two had opposing viewpoints of the way this research was to go down, and they were making it known. By the end of the day I had to make significant changes to satisfy the client." He had done his homework and let two other facilities and two other moderators know that Key Lime was in town testing, and that he may need their help if he runs into a pickle. That simple notification gave him an option to make a moderator change for the remainder of the study.
Popular tweets during the talk #globalresearchpanel:
"Aha moment tips for global studies. Don't forget your international power converters."
"Schedule downtime to research when fielding for long 2-week periods."
"Eugenio shares the importance of multi-tasking and using our partnership with @UX Fellows for global reach."
"@Google is experimenting with a new approach to shorten the study time since stakeholders want answers now."
"@eBay speaking about importance of translation and the challenge of emotional measures."
More from the panel:
Anosha Shokrpour
Groupon
@anoshas
With 5+ years of experience in the field at eBay Inc. for most of her tenure and now at Groupon, Anosha has a deep understanding of the international e-commerce landscape that spans across developed and emerging markets.
Donna Tedesco
eBay Inc.
Donna Tedesco is a Senior User Experience Researcher at eBay Inc. She has experience using moderated and unmoderated studies for global research while working for in-house research teams over the last 13 years.
Chelsey Glasson
Google
Chelsey is a user experience researcher whose skills have impacted a wide variety of enterprise and consumer technologies at diverse companies including Google, Salesforce, Udacity and T-mobile. Motivated to help others avoid her early UX career mistakes, she often writes and gives talks on the topic of UX Careers.
Sin Lee Loh
eBay Inc.
Sin Lee Loh is a user experience researcher at eBay, currently focused on buyer experiences but previously focused on conducting research in Latin America and Russia. Sin most recently conducted ethnographic research in Brazil.
Eugenio Santiago
Key Lime Interactive
Eugenio Santiago is a ninja in user experience research helping the world's most admired brands optimize their digital and product experiences. As Vice President of User Research, he manages the team of both qualitative and quantitative researchers. Eugenio has been recognized by clients for his ability to quickly spot patterns and provide actionable recommendations. Most recently, Eugenio's focus has been in the areas of Mobile, Finance, and Retail while still maintaining a passion for sports and gaming.
READ MORE: What We Talk About When We Talk About International UX Research, Our Researchers Can Join Your Team, 5 Key Elements for Successfully Managing an International Customer Research Project, Best Practices for Conducting User Testing In Asia