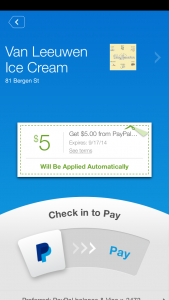 After a challenging experience with mobile payments at a New York music festival, our researchers decided to get together and assess two of the leading mobile payment options currently on the market. In Part One of this two-part series, we field test PayPal and Google Wallet apps on both iPhone and Android smartphones. Next month, we'll review the mobile payment landscape and share some interesting new developments.
Let's see where Kathleen Henning and Phil McGuinness stand on these mobile giants.
Kathleen: As I was preparing to attend the Governor's Ball festival this summer, I was super psyched. Not only did they have an amazing lineup, but the food & drink section asked for my credit card information so I could make mobile payments. Since I hate carrying cash (and really anything), this was a dream come true for me. Unfortunately, it was a little too good to be true. I entered all of my information only to find that no one was accepting the GovBall app as payment. Instead, there was the PayPal app…
Most festivals, for better or worse, are known for having notoriously awful cell service. GovBall was no exception. Using the PayPal app required downloading it, logging in, taking a picture of yourself, and saving your account information. All of those steps required far more Internet speed than was available. Day 1 I had no luck. Day 2 I was able to purchase free Brooklyn Soda Works. Day 3 the vendors I tried weren't accepting it anymore because of technical failure.
This experience got me thinking, does this app work any better with a stronger signal? Was my experience simply based on the context of the festival? I opened up the PayPal app, looked through the local businesses available, and took a trip to Van Leeuwen's for a (mostly free) scoop of ice cream with ridiculously delicious fudge. The app worked! And then it crashed my iPhone. However I was able to pay and get the $5 coupon discount and, more importantly, enjoy a little piece of ice cream heaven.
Phil: After Kathleen and I discussed her experience, I went ahead and tested the take out ordering for the PayPal app on Android. I found that it works like any food ordering app. All mobile ordering relies squarely on the structure and capabilities of the Eat24Hours service. My experience with setup was fairly easy, although you have to enter a lot of basic information, including a picture, which might deter some people.
Would you want to include a selfie?
The next day I opened the app again to order some lunch, and thankfully the process went smoothly. I was able to pick up my food without any hiccups. I hope that the errors Kathleen and I experienced will be worked out over time, so the app can become a more reliable source of ordering.
Kathleen: In this day and age, there's a lot of potential for mobile payment systems to streamline a manual process. I was at a concert recently where the luxury box seats were offered a paper menu to select menu items and have them brought to your seat. This section was organized by Live Nation, the international promoter. A setting like this one would be perfect for mobile payments. If I could log into my Live Nation app, select what I want from the menu, hit submit, and have it delivered to my seat, I would be so happy!
In conclusion: There are definitely still some usability issues in this area, but we here at Key Lime Interactive are super excited about the future of mobile payments, especially at concerts and music festivals! Next month, we'll review the current mobile payment landscape, including some novel new approaches to address problems like those Kathleen and Phil encountered above. Until next month...