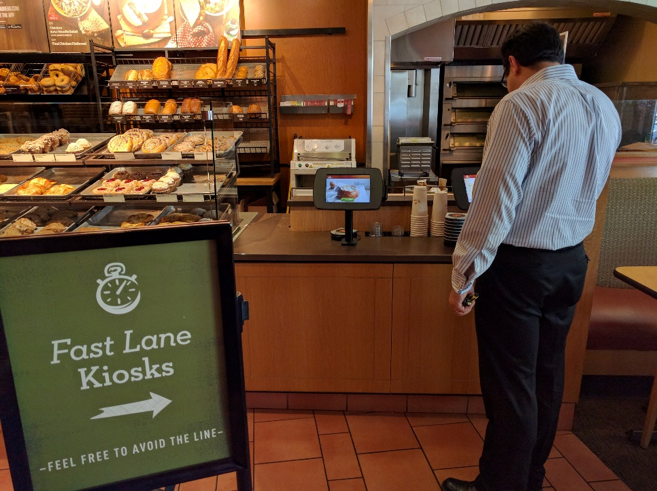 More than two years ago, in April 2014, Panera announced their Panera 2.0 program. It contained a series of technological initiatives designed to allow customers to interact with Panera in new and innovative ways, including advance ordering and pick up, fast-lane kiosks to order in while dining, ordering from your table within the restaurant, and the ability to save customized orders within the restaurant. While this was slated to roll out in all stores by the end of 2017, Panera is already seeing rising stock value¹ from the initiatives in the last few months. We believe that these new developments really show that Panera is forging a new path for the customer experience in restaurants. To confirm that, we decided to take a look at some of these initiatives from a customer's perspective, with a quick field trip to the Panera location near our Miami office.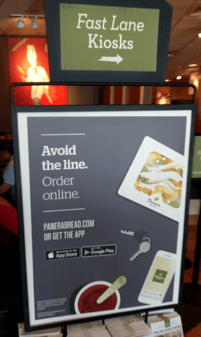 Even before entry, we were greeted with signs promoting the ability to order online via their site or app (not pictured). After entry, we are immediately shown directions to the fast lane kiosks, as well as the opportunity to order online again. Clearly, Panera is pushing this new business strategy very strongly in store. Alex, our CFO, and I proceeded to the fast lane kiosks, as there were customers occupying the two other cashiers as we entered. Also, as usability people, we couldn't resist checking out the novel interface while ordering our meals.
The ordering process was quite smooth, and as someone who has only eaten at Panera a handful of times, I had no difficulties selecting and customizing my meal. While I typically try not to be picky when ordering, I was able to fully indulge in options like adding avocado, changing the type of cheese, and removing mayonnaise from my order. Additionally, if you read my recent article on customization in fast food apps, you'll see that Panera here is following some of the best practices for customization that were identified. The order flow is also solid, with a directional left to right order along the top of the screen, and calls to action at the top right and bottom right that stands out clearly against the pale background color.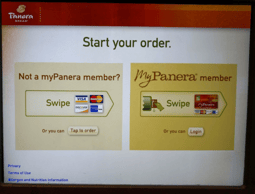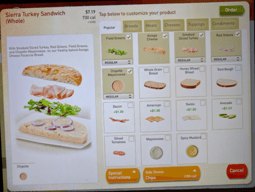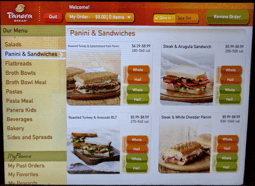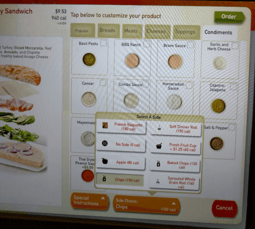 After setting up and reviewing my order, I'm asked to select an Order Locator from a nearby pile, and enter the number on the screen. This will indicate to the Panera employee exactly where I'm sitting. The locator must have some sort of built-in tracking that will help Panera employees find us in the restaurant, but regardless, from a customer experience standpoint, this was not a concern.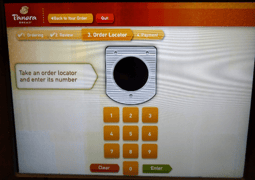 Finally, we sat down. I noticed that the table we sat at had a number on it as well, encouraging me to order from my table. Although I didn't know about this aspect of Panera 2.0 upon entering, this reinforced for me the idea that I have multiple options for ordering if I want to eat at Panera.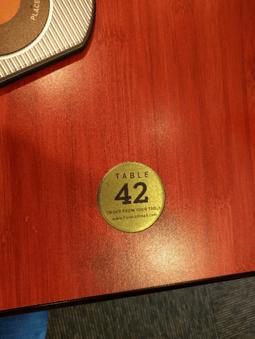 All in all, the experience was smooth and pleasant. As much as I had read about the different aspects of Panera 2.0, seeing the setup in-store and experiencing it from a customer's perspective was worth the trip.
To turn back to our original question: Is Panera leading the way for restaurants? I believe the answer is yes. The combination of these new interactions and their promotion at the store level can have a large impact on the customer experience. In a typical trip through the store, Panera promotes online ordering and their mobile apps, kiosk-based ordering – which in turn promotes joining Panera's member's club – and the ability to sit at your table and order. In a time where speed and convenience are key factors in deciding where to eat, Panera's focus on technological integration has taken any question about those aspects of dining out of the equation. This approach is already starting to show in their stock value and overall profits, while Panera is less than halfway through their proposed timeline for delivering the Panera 2.0 experience to all stores. I look forward to watching Panera grow through its focus on customer experience.
READ MORE: Making Food Faster , Top 5 Usability Mistakes in To-Go Ordering, 5 Usability Mistakes Retailers Are Still Making (And How to Fix Them), Top 10 Conisderations When Designing mCommerce Experiences for Millenials