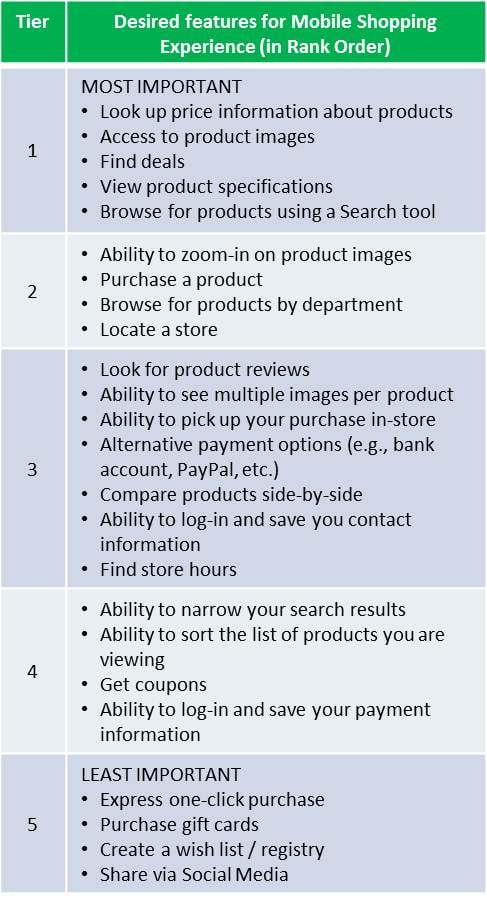 Key Lime Interactive conducted a study aimed at understanding mobile shopping behavior. The results reveal key features users require, at-home and in-store mobile shopping behavior, and more.
In today's consumer landscape we see retailers expanding and spending time to enhance their mobile offering in an effort to increase conversion on their mCommerce sites and apps. Often times, as they aim to keep up with the rapid pace of mobile growth, retailers fail to align their business objectives with their target end-user's mindset, behaviors and preferences. To mitigate this problem Key Lime Interactive (KLI), a leader in mobile consumer experience testing and design, conducts frequent surveys to understand usage, trends, expectations, needs and preferences of retail consumers so that they may offer their clients current and relevant actionable recommendations for innovative, consumer-driven interfaces.
Mobile Retail Study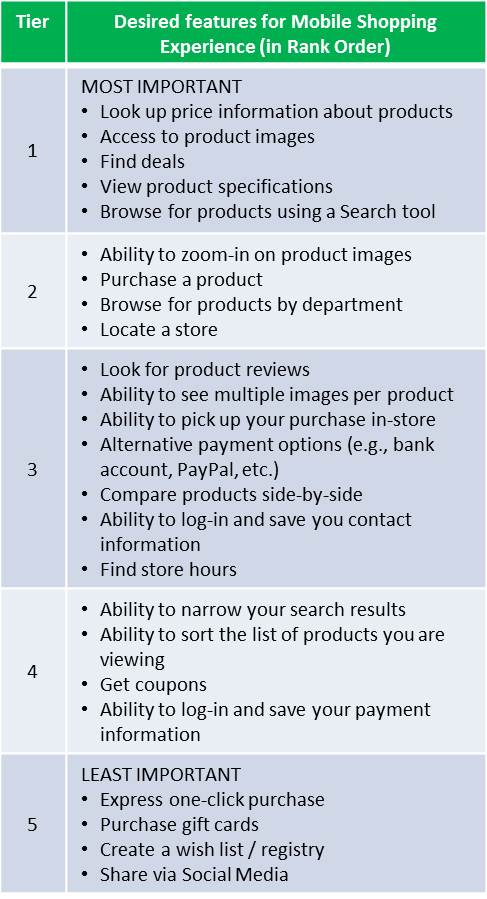 Last month, in KLI's most recent mobile study, three hundred mobile retail consumers were surveyed. The results revealed a prioritized list of consumer preferences and validated the assumptions that many of us would make: the most important features for a successful mobile shopping experience included the ability to seek out pricing information, quality product images and specifications and to arrive at such information via a streamlined search tool. Additionally, users reported that they can't live without an easy way to "find deals" offered by a given retailer – this serves as food for thought as said retailers consider the importance of a clearance section or discount offer placement on their mobile interface.
Surprising to some retailers, though, was the discovery that the ability to purchase a product ranked as a second tier need in the survey. "This validates a trend we've observed, particularly among consumers shopping the mobile optimized site offered by a brick and mortar retailer" says Eugene Santiago, Director of Research at KLI "77% of consumers report that they are likely to browse products on a mobile site to purchase in-store at a later time. Further, 79% of consumers use the m-site to compare rival store's prices while they're in store executing a purchasing decision."
The report also stated that "many mobile sites still leave customers with unanswered questions" and product comparison tools are among the three things consumers would change if they were responsible for the m-site design.
"Information, such as usage information and preferences helps us shape our expert recommendations as we assist with mobile site strategic development. For example, knowing that most consumers are using their mobile tools to learn as much as they can about products, and less to purchase them, helps us validate prioritizing focus on building strong product interfaces ahead of refining a checkout process for a given client." says Ania Rodriguez, CEO of KLI "Similarly, if we find that product comparison tools are the missing piece to the puzzle, we can encourage this feature and resurvey to demonstrate the increase in consumer sentiment – combine that with sales statistics through the mobile channel and we identify the source of an increase in conversion ."
Additional Report Information
These results, along with additional details, were presented in a webinar by KLI on January 25th. Participants learned answers to questions such as Do we know which features are a catalyst for the transition from mobile browsing to mobile shopping? Do we have a list of recommendations from the mouths of our consumers to enhance our mobile offering? and more. The entire webinar/results are available free of charge.
Slide Deck from Webinar
Full Webinar with Audio

For additional information, or to conduct a similar study or evaluation on your website, contact sales@keylimeinteractive.com