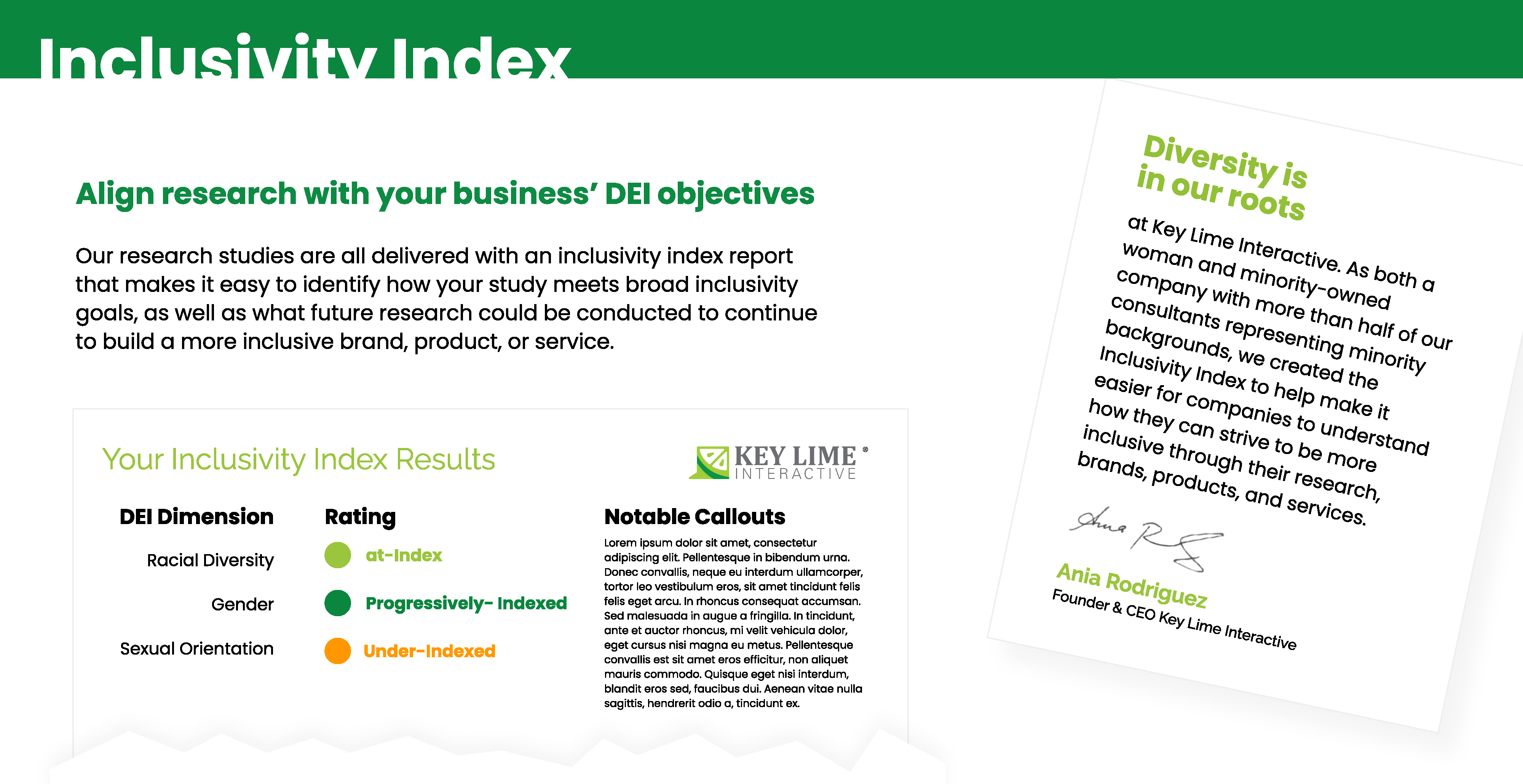 Key Lime Interactive (KLI) recently introduced the Key Lime Inclusivity Index™ and has made it accessible for all UX researchers in order to develop more inclusive user research practices worldwide. The Inclusivity Index is a 3-point index intended to highlight areas of under-representation for traditionally marginalized groups in society through the participant recruitment process.
The Key Lime Inclusivity IndexTM
The Key Lime Inclusivity IndexTM is meant to be used as a conversation starter that empowers our customers to have more effective dialogue around how to design more inclusive product and brand experiences both within their organization, between other teams and executive stakeholders, and with trusted partners and vendors, like Key Lime Interactive.
"About a year ago, when the social conscience of our country was awakened or more appropriately shaken....we began to ask ourselves, what, if anything, were we doing to be deliberate about making sure that regardless of whatever sources we were using, that KLI was doing something about it. This is where the idea of the Inclusivity Index was born." says Eugenio Santiago, SVP of Research at Key Lime Interactive.
The goal of the Inclusivity Index is to determine if the overall sample, across multiple projects, is representative of the general population (using census data) and to help inform clients/teams of their perspectives so that organizations can have a complete picture with minimal biases.
This tool can be used as a starting point for future research projects or can be used as a conversation starter with other teams within the same organization to pave the way for greater inclusivity.
Paving the Way for More Inclusive User Research
During the World Usability's Speaker series, our CEO & Founder alongside KLI's SVP of Research, not only discussed the topic of inclusive user research but took the opportunity to showcase their new Diversity, Equity, and Inclusion (DEI) rating tool and demonstrate how to utilize this index so that other user experience (UX) professionals can incorporate more inclusive user research practices.
"I'm a firm believer that our work as usability professionals can change the world. We are here to share what we've done so you all can be part of our journey as this work needs to be bigger than us to really make a difference" says Ania Rodriguez, CEO and Founder of Key Lime Interactive. She goes on to say, "My hope is that each and every one of you will take our framework and apply it to your own research."
Join KLI's Mission
Key Lime Interactive's shared purpose is to advise companies on their customer experience (CX) so that we make a difference through better-designed products and services. For this reason, we're inviting all UX researchers to join our mission of making a difference through better-designed products that integrate the voices of "everyone". To get started, download KLI's Free starter kit which includes:
Sample Screener
Sample Report Slides
How to Write Recommendations for Inclusivity
Early access to our online Inclusivity Index calculator