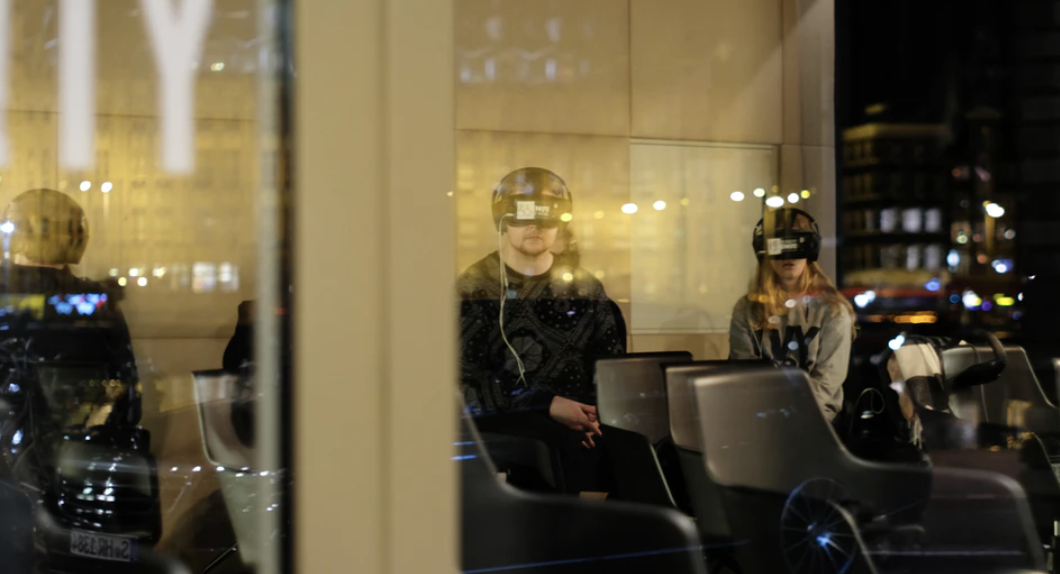 Since the inception of Key Lime Interactive as a user experience research and design agency, the company has come a long way to be a leader in the market. We are trusted by 100+ of the world's most admired companies to help them improve the user experience for their products and services. An important pillar of the company's core values is discerning the bigger picture and deciphering the puzzle. Abiding by this core value, the company's thought leaders and strategists took a deep dive into understanding what elements of emerging technology will play a pivotal role in shaping 2020 and the new decade that lies ahead of us.
Leveraging the collective brainpower of the digital experience experts on the team, the company embarked on a new chapter to tackle the exponential rise in influence of eXtended Reality (XR) in the emerging technology market space and guide the company's growing list of influential clients on how to deliver user experience value through the optimized use of XR.
Why is eXtended Reality Important?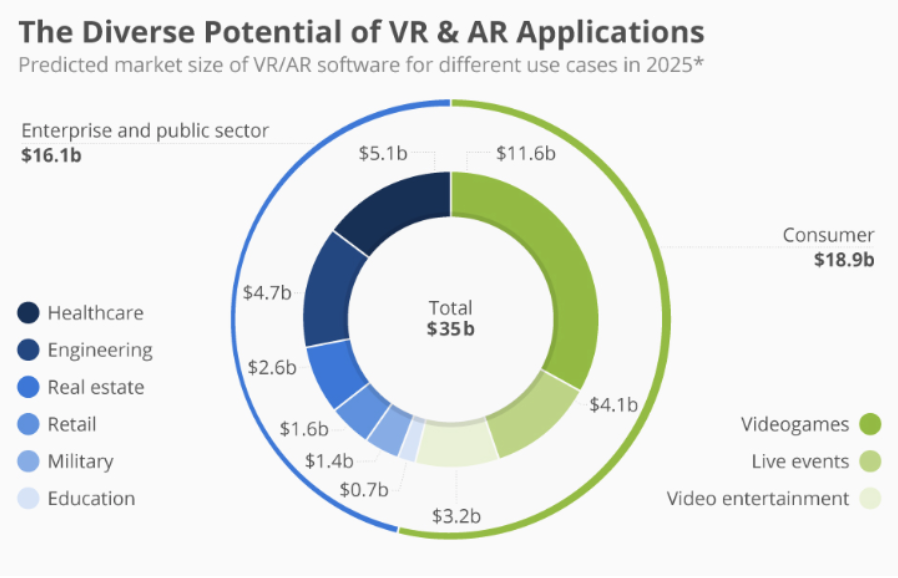 Market and equity research forums and industry experts predict that XR will represent the next generation of the Human-Digital Experience. The analysis report by Goldman Sachs group summarizes that Virtual reality (VR) and augmented reality (AR) have the potential to become the next big computing platform, similar to the PC and smartphone industry boom.
It is expected that XR will be the catalyst for creation of new markets and disruption of existing ones. We are already witnessing a sharp rise in examples of how XR based products and services are reshaping existing ways of doing things, right from virtual grocery shopping, VR training for doctors, to watching a football game.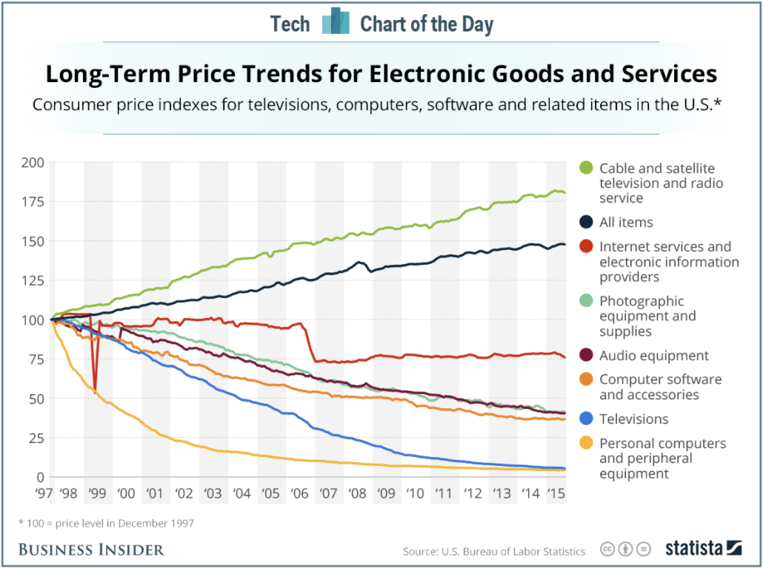 Source: World Economic Forum: Why is tech getting cheaper?
The World Economic Forum in their article notes an important factor of how technological innovation is great for the consumer. The graph above shows how prices have dropped dramatically in almost every tech sector over the period of the past 2 decades. The drop in computer hardware is particularly steep. In other words, as the technology advances, price points decline, and a gamut of products and services (both business and consumer) enter the consumer market. Thus, we believe, XR presents a unique win-win opportunity to excel both at enterprise and at the consumer level. Here is how various Socio-Political, Economic and Technological factors are shaping XR space:
Socio-Political Factors:
This Extended Reality (XR) Market- Growth, Trends and Forecast (2020-2025) Report by Mordor Intelligence predict that:
China will deliver the largest AR/VR spending total in 2020 ($5.8b), followed by US ($5.1b), and then Western Europe ($3.3b) and Japan ($1.8b).
By 2023, however, Western Europe is forecast to surpass China. The regions that will see the fastest growth in spending over the forecast period are Western Europe (104.2%) and the United States (96.1%) .
Economic Factors
According to the International Data Corporation (IDC) Worldwide Semi annual Augmented and Virtual Reality Spending Guide,
the five-year compound annual growth rate (CAGR) for XR spending worldwide will be 78.3%. (Enterprise 84%, Consumer 69%)
XR is an emerging issue amongst Enterprises representing a major shift of disruption on both the B2C and B2B markets
The largest projected growth is expected to be for online retail, hardware, and lab and field education
Technological Factors
VR and AR Head-Mounted Displays (HMDs) are likely to experience similar cost reduction curves as we have seen for PCs and smartphones, with prices falling 5-10% annually thus, giving a boost to the wider adoption rate of XR based applications among a gamut of consumers and businesses.
Why should you think Key Lime Interactive when you are thinking XR?
With a dynamic team of digital experience experts, whether its understanding guidelines for developing in XR space or getting started with training, we can help research and elicit user-centric insights pertinent to the VR/AR/MR experience for your use case. Here are a few examples of current XR service offerings that empower us to spearhead the research and development in this emerging market domain:
Determining if XR is Right for You
Our team of XR & UX experts will help you identify the best applications for the technology in your case. We can help with modeling the costs and benefits of using XR to enhance your organization or product. Examples of methods we have used in the past:
Contextual Inquiry (Exploratory deep dive to garner insights from your target audience)
Cost-Benefit Analysis (Determining options which provide the best approach to achieving the desired outcomes while optimizing your budget)
Market Research (Gauging Customer's Level of Interest; Competitive Analysis)
Optimizing Your XR Design & Development Process
Think of us as the voice for your end users. Through years of experience augmenting the ability of cross-functional teams to build user-centric solutions, we have formalized robust processes that enable seamless collaboration between internal and external stakeholders. These processes span across the product development cycle right from design ideation to support for asset creation and user testing. If your needs are more long-term, our on-site researchers have experience in integrating with day-to-day team operations to support production iterations. Examples of methods we have used in the past:
Usability testing for VR/AR/MR
Designing and testing Believability metrics, Presence & Immersion metrics; Realism Factors; Degrees of Control in VR/AR/MR mediums
Designing and testing virtual objects, avatars and environmental interactions
Designing and testing for locomotion and navigation in VR/AR/MR mediums
Biometric studies
Design assessment (For eg: Determining the ROI of Conversational UI based solution for your app or service)
Refining Your XR Product
Our team will review & assess product efficacy in achieving target goals, providing comprehensive but actionable recommendations if weaknesses are identified. We have methods to analyze XR products as a whole or on specific characteristics, such as early presence development.
Heuristic Analysis
Expert Review
Competitive Benchmarking
Evaluating the effectiveness and impact of the XR product
Thinking for accessibility solutions in XR mediums (For eg: Spatial-Audio Navigation; accessible hardware ergonomics)
Eye-tracking solutions
Are you exploring how Extended Reality (XR) solutions like VR/AR/MR can serve your enterprise? Do you already have an idea of how XR could help but need some help perfecting it? Let's have a chat!
Explore other possibilities in Extended Reality with Key Lime Interactive. To learn more about current and limitless future possibilities in user research and XR space, reach out to our team of thought leaders, strategists, researchers and experience designers on LinkedIn.
READ MORE: AR and Tourism, How UX Research Plays in an Innovation Strategy World, What's the Difference Between AR, VR, and MR?, Creating a Mixed Reality Experience