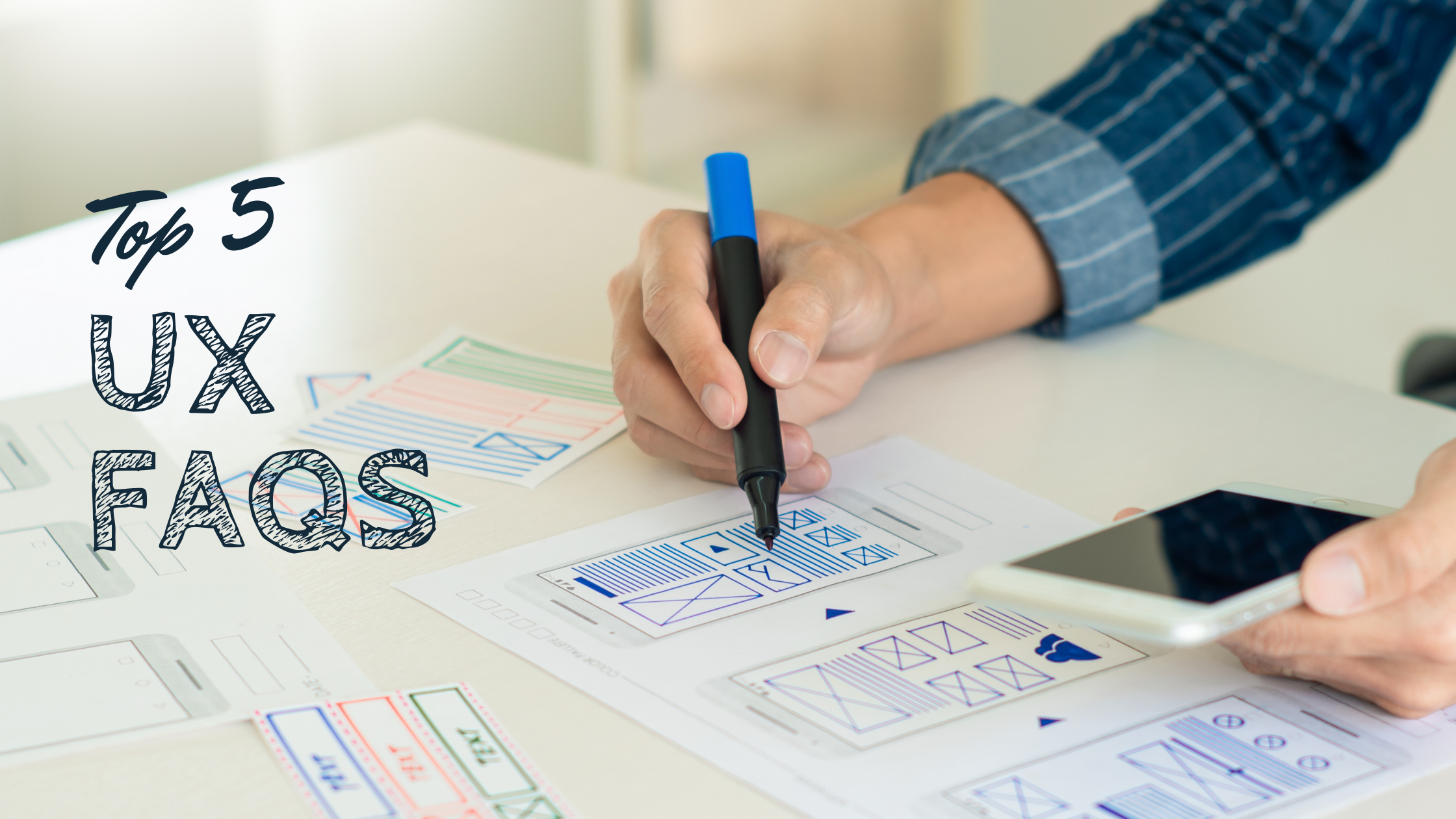 While User Experience (UX) has been widely accepted and used by user/customer experience and marketing professionals, there are still many questions surrounding best practices and use-cases. For this reason, I have put together a list of the top UX FAQs to help alleviate any questions, concerns or myths surrounding user experience.
Top UX Frequently Asked Questions
1. What Exactly is UX Research?

User experience is a multidisciplinary field that encompasses a variety of methodologies and approaches. User experience research is focused on uncovering the motivations, pain points, challenges, opportunities, emotions (and more!) that occur when a user is interacting with a specific product, system, or experience. Comparatively, UX research is often used to inform UX Design, which is the practice of implementing the findings from UX research into the actual design of a product, system, or experience.
The goal of both UX research and UX design is to create an enjoyable and seamless experience for users. There are a variety of methodologies used in UX research ranging from A/B Testing to moderated/unmoderated online studies to diary studies and more. All methodologies allow the researcher to focus on answering different questions and problem statements. .
2. Where Does UX Design fit in?

UX Design is the practice of actually implementing the findings from UX research into the actual design of an app, product, system, or experience. Therefore, UX research is often utilized as the groundwork to inform UX design. Both UX research and UX design have the same end goal of creating an enjoyable and seamless user experience. Check out our articles on maximalism and minimalism in UX design to keep exploring the impacts UX design has on the overall user experience.
User-centered UX Design is the process of designing an app/product/service/experience that focuses on the needs of the users from the very beginning concept phase until its launch. Oftentimes apps/services/products etc. are created from a technical or business or even marketing perspective, and the needs of the users are considered post-launch. UCD's purpose is to increase product usefulness and usability by designing with and for the user from the very beginning of the iteration phases. .

3. What is Remote Usability Testing?

Remote usability testing allows companies to get the same insights, recommendations, and data from an in-person usability test. It also allows users who are in different geographical locations to participate in the research study. Remote usability testing isn't a new concept, but KLI has been able to effectively shift all our methodologies to remote to accommodate for COVID-19 without having to sacrifice our research process or data insights. Check out our article on Unmoderated vs. Moderated Studies or 5 Considerations for Switching to Remote Research During COVID-19 for more information!

4. What is the Difference between UI & UX?

These two terms are often entangled and get confused with one another, which unfortunately is a common mistake. However, when referring to UX Design that's describing the User Experience Design, while UI refers to the User Interface Design.
User Interface is centered on interactions between humans and a product, essentially what users see when navigating an online product/service. User Experience Design focuses more-so on the emotional outcome revolving around a user's interaction with a product or service and the feelings they have during that interaction.
While theses terms describe different scenarios, they both do work in tandem with each other for an overall better customer experience (CX).

5. Why is UX Important for Business?

User Experience research is sometimes thought of as being an afterthought - something that is done once a system or product has already been developed. However, UX research is an important business tool that helps to improve conversion rates, customer satisfaction, attracts new customers, and more. Implementing UX research can help a business remain both competitive and profitable by ensuring that your users have great experiences with your product or design. Don't believe us? Recent research conducted by Forester indicates that companies who invest in UX research and design end up seeing a lower cost of customer acquisition, lower support cost, increased customer retention, and increased market share. Focusing on creating a good user experience is good for business - it is as simple as that! Check out our blog article discussing the value of UX as a business tool . Moreover, implementing UX research allows businesses to reinvent their innovation strategy by providing context and clarity throughout different stages of the product life cycle.

UX Support
Have more UX questions that you need answers to? Our team is made up of thought leaders, strategists, researchers, designers, and front-end developers who deliver strategic insights, advice, ideas, and prototypes. We can and are exciting to help answer your UX questions, please email us at info@keylimeinteractive.com or reach out to us here.