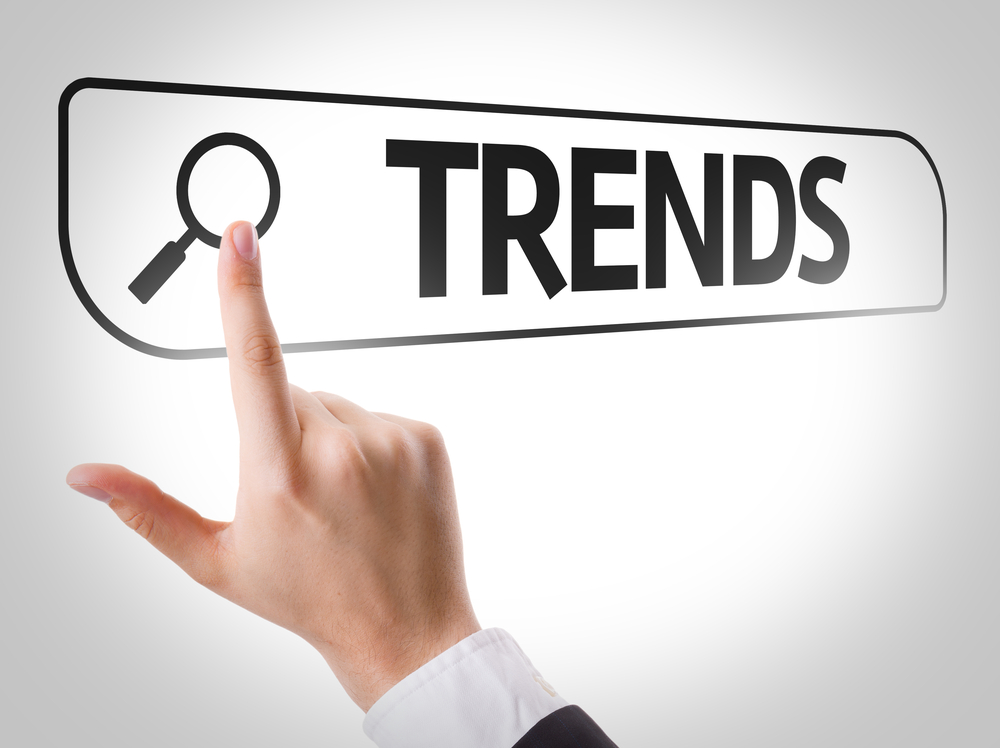 Here at Key Lime Interactive, we are constantly monitoring how consumer needs change and evolve over time. And of course, we track—with great interest—what industry leaders and innovators are doing to push technology forward, and how that influences consumer expectations, and improves the user experience.
Why we believe it's particularly important to understand Mobile Trends and Innovations.
How customers interact with various companies in the mobile channel is changing rapidly. Between shifting consumer needs and expectations and competition in the marketplace, there are new challenges in the mobile arena, but this has also created opportunities for forward-looking companies to benefit. To compete digitally, businesses need to constantly stay on top of market trends and evolving consumer needs and preferences. We believe that companies that make innovation a strategic priority, and who are dedicated to investing in meeting consumer needs by delivering a best-in-class mobile experience, will not only gain market share, but also increase customer satisfaction and loyalty among existing customers.
Research to keep you ahead of the curve!
For the past two years, in our bi-annual Mobile Competitive Index Reports, we have been covering the trends and innovations in a number of different industries (banking, credit card, auto insurance, and home and renter's insurance). In these detailed industry reports, we highlight some of the most interesting growing trends and latest innovations.
An example of a couple of the recent trends we've been following in the financial services industry are: the availability of free credit monitoring tools becoming more commonplace on mobile, and the proliferation of biometrics for a more secure and convenient log in experience. See examples of each below, from report co-author Phil McGuinness.
EXAMPLE TREND*: CREDIT MONITORING TOOLS
More and more we are seeing credit card companies offer direct access to credit monitoring and learning opportunities. Capital One has been providing this for a long time, and their specific feature set is worth highlighting. Capital One provides its users with a free Transunion credit score, grading out each aspect that goes into calculating your final number. Above and beyond that is the unique ability to calculate the resulting change in your credit score if you were to take certain actions. These include: paying off all credit card debt, opening a new account, closing an account, having a hard inquiry on your account, and many more. Capital One customers can feel secure in understanding the credit impact of almost any new undertaking, all without leaving the app.
Capital One
Discover, on the other hand, has a more limited approach. Discover is a long-time provider of the FICO credit score, and also includes key factors that influence your credit score – similar to Capital One's grading system. However, the offering trails off there with only some general tips, and nowhere near the detail of Capital One's calculator tool.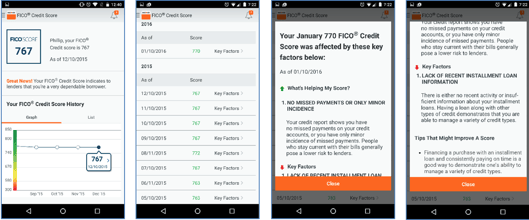 Discover
USAA also offers credit-monitoring services to their members, which can either be paid or free depending on the level of security you desire. CreditCheck® alone is free, providing a monthly Experian VantageScore®, and annual Experian® credit report, and more. Customers can sign up on the mobile site, where available information is helpfully pre-filled if you link directly from the app when you're logged in.
Additionally, customers can fill out personal information to receive a Financial Readiness Score, which stretches beyond credit and into the broader world. The Financial Readiness Score helps track your spending, understand if you're saving enough for short and long-term goals, and in applicable cases, can validate your levels of insurance and track legal documents in case of emergencies. This comprehensive look at your financial state is unprecedented on a mobile device, and illustrates why USAA is consistently a top financial institution in our reports year after year.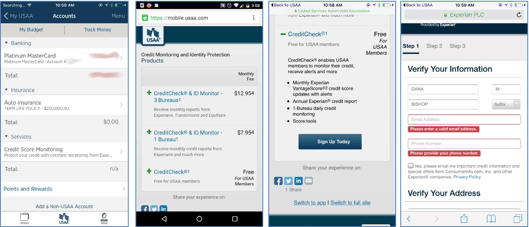 USAA
*From our July 2016 Mobile Credit Card Report
EXAMPLE TREND*: ANDROID FINGERPRINT CATCHES UP
Although Android phones account for roughly 53% of the market according to the most recent ComScore data[1], adoption of fingerprint-based login has been mostly restricted to iPhones up until now. This is largely due to the fact that iPhones have had touch ID as a standard for years, while Android phones come in many shapes and sizes, and only some of the higher end models have had fingerprint-based identification services. The Android 6.0 Marshmallow operation system release made this a standard for fingerprint-enabled devices, which as now opened up the opportunity for developers to integrate this into their software more easily.
Not surprisingly, a few companies took this opportunity to jump on this emerging trend, and fingerprint login is now available for Bank of America, Chase, USAA, and even State Farm, who provide banking services in addition to their primary insurance focus. Since all of the iPhone apps in our report have embraced touch ID for login, we wouldn't be surprised to see the rest of the Android apps jump on board with this update by our December 2016 release.

State Farm Android app Bank of America Android app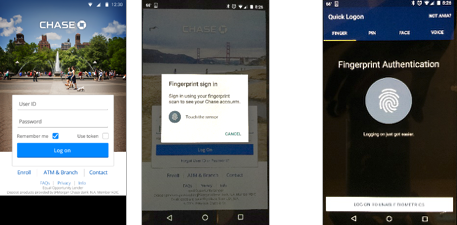 Chase Android app USAA Android app
*From our June 2016 Mobile Banking Report
Until now, KLI's Trends & Innovations analysis was included in our in-depth 100+ page reports and available only to subscribers of those bi-annual reports. However, after growing interest from non-subscribers, we have made this content available as stand-alone reports to anyone interested in purchasing—subscribers and non-subscribers alike because we understand that trends and innovations that have impact in your industry. Each report includes several relevant examples of different companies' application of a particular feature, service, or technology. Where applicable, we also include findings from our consumer surveys regarding customers desire for these types of capabilities.
[1] https://www.comscore.com/Insights/Rankings/comScore-Reports-February-2016-US-Smartphone-Subscriber-Market-Share
READ MORE: 3 Tips to Activate the Innovative Side of Your Employees, A Brief History of Computer-Human Interaction, How to Plan for a Quantitative UX Benchmark Study, Our Researchers Can Join Your Team